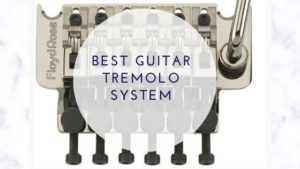 Welcome to Best Guitar Tremolo System.
You came to my page because you want to know what I consider the best tremolo system, which is widely available in the market.
I have been modifying guitars for more than 17 years, and I specialize in upgrading guitar tremolo systems.
Congratulations on arriving on my page, and I will give you all the information you need about why I consider this system the best tremolo system.
What is the Best Guitar Tremolo System?
In my opinion, the best tremolo system is Floyd Rose. Introduced in 1984,  it is still the best in the market today, and there is still no other system that can come close.
It is also a good thing to take note that Floyd also addresses the needs of Guitar Players by addressing their needs by these facts:
Manufacturing an Affordable Version of the FRT100
The thing I like is  Floyd himself listens to the needs of the guitar players. It is a known fact that there are so many licensed versions of the Floyd Rose FRT100.
Some are good and cheap, while some are fakes. Floyd addressed the problem by producing his own more affordable version of the FRT100, which is the Floyd Rose Special, which is made in Korea.
Creating a Tremolo as a Drop-in Replacement for Hard Tail Bridges
When the Gibson Les Paul players needed a drop in tremolo system in their guitars, Floyd produces the Floyd Rose FRX.  It gives the option for those players to have a tremolo without routing their priced guitars.
Innovating the Classic Tremolo for Strat Style Guitars
Even strat players are not left unnoticed by Floyd. Now they can have both worlds by having a dive only tremolo that can act as a hardtail bridge.
Now they can bend a string while maintaining the pitch of other strings like a hardtail bridge. The Floyd Rose Rail Tail Tremolo is heaven sent for a lot of strat players.
Click here for the full review.
What is the Best Guitar Tremolo?
The Floyd Rose Original Bridge FRT100 is what I consider the best tremolo in the market. This model is by far better than the FRT1001984, which is also available as a reissue as of this writing.
It is the best guitar locking tremolo system available in the market and it is surpassed only by the limited-run Floyd Rose All Titanium Tremolo.
The primary factor is the mounting studs in the FRT100 vs. wood screws in the FRT1001984. The FRT100 is the most copied Floyd Rose Tremolo today.
It also sparked a trend in a ton of Floyd Rose Upgrades. From tone blocks with different metals to brass, stainless steel, and titanium parts.
Floyd Rose even produced a limited run  Titanium version of this tremolo because of the popularity of the upgrades.
The Best All Titanium Guitar Tremolo Bridge
The All Titanium Floyd Rose FRTTi is the best tremolo, in my opinion, but it was a limited run, and it cost more than a grand US Dollars when it was available.
It was manufactured by TiSonix of the USA, not Schaller of Germany, which produces the Original FRT100.
Your chance for owning this tremolo is by buying it used, but there is a possibility that owners will hold on to it as it will inevitably increase in value.
The only company that manufactures all-titanium tremolos patterned after the FRT100 today is Hantug Guitars of Turkey. Click here for the full review.
Another  Floyd Rose model, which I consider the best, is the all-titanium Floyd Rose FRX FRTIX01000, which is limited to 10 pieces and cost three grand US on Floyd Rose website.
This tremolo is a drop-in replacement for Gibson Les Paul guitars and any guitar with a hardtail Les Paul type of bridge.
Click here for the full Floyd Rose FRX Review
Guitar Tremolo Parts Availability
One of the most important factors why I consider Floyd Rose as the best tremolo system is the availability of parts and upgrades.
Other guitar manufacturers have their exclusive tremolo system, with parts not available outside of the company.
I think it is not a good idea that when you need parts or upgrades on your tremolo, you do not have easy access to those parts.
Floyd has addressed this and hats off to this great person for solving a lot of guitar player's problems by listening to their needs.
Conclusion
The factors I mentioned above clearly makes this tremolo system as the best, and I am sure Floyd will make more innovations in the future.
When a player comes to me with a guitar with a cheap, licensed Floyd Rose Tremolo, it will always bring a smile on my face.
After all, they want to try how great this tremolo system is, although with a limited budget.
What I do, is I always pointed them to the upgrades available that they can transfer to their Floyd Rose FRT100 once they have the budget.
So there you, I hope I have given you enough information, if not then please do not hesitate to ask questions or drop a comment below.
Den