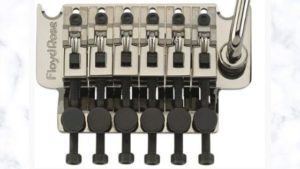 Welcome to my Original Floyd Rose Tremolo Review.
Congratulations on reaching my site, and my review of the original Floyd Rose Tremolo will answer all your questions.
I have been doing guitar modifications for more than 17 years, and I hope my experience, which I will share with you will help you make an informed decision on your next acquisition of a tremolo system.
Tabl
e of Contents
Original Floyd Rose Tremolo Review
What is Original Floyd Rose Tremolo?
The Floyd Rose Original Tremolo is the best tremolo available in the market since its introduction in the 1980s.
Until the time of this writing, there is still no substitute for a Floyd Rose Original Tremolo.
A lot of rock guitar solos will not be as expressive without this excellent tremolo. Deep divebombs and squeals are made possible using this tremolo.
It is the reason why a lot of rock guitarists are still using this tremolo after more than 30 years of its introduction.
It is a double locking tremolo, which means the strings are locked on the bridge and the nut, thereby eliminating any string slippage, thus providing tuning stability.
There is still no tremolo system that can replace the original Floyd Rose unless you would go for the titanium version of this tremolo by Floyd Rose or by Hantug Guitars.
It is the tremolo system that influenced a lot of upgrades on its parts; that is why aftermarket parts are readily available for this tremolo.
Just the tone block itself can be upgraded to a lot of materials, and they are not limited to titanium and brass.
A lot of parts like screws can be upgraded to stainless and titanium. There are also a lot of options for your saddles.
It can upgrade it to stainless, titanium, with a Graph Tech string saver or even a Graph Tech Ghost Saddles with Piezo pickups.
You can even install a tremolo stabilizer, to add tuning stability to this tremolo.
As you can see, there are a lot of Floyd Rose Upgrades available in the market, and it makes this tremolo even better than other tremolos.
If you are into deep divebombs, this is the tremolo you need. There is no other tremolo that can divebomb as a Floyd Rose.
It is manufactured in Germany by Schaller, and a lot of guitars come with a licensed copy of this tremolo.
It is not unusual to find fake copies in the market and some of them even claim as licensed copy.
The tremolo kit comes with the tremolo, the locking nut, the springs, the spring claws, and the mounting stud.
Original Floyd Rose Tremolo Review
What Sets it Apart from the Copies and Licensed Versions?
Most of the licensed copies and the fake ones will come with a zinc tone block, whereas the original comes with brass, although it is nickel plated.
The baseplate and the knife edges are made with hardened tool steel, which will give you playing stability for a long time.
I have seen cheap copies with a pot metal baseplate, and they just added a steel knife edge.
The spring plate, which counteracts the force applied to the micro tuners, is made of high-quality material, unlike the cheap ones being installed on the copies.
The tremolo arm is not wobbly unlike on the copies where it's got a lot of clearance.
The nut and the string clamp are made from high-quality steel, which again on the copies it is otherwise.
Pros
best design
brass block
a lot of tremolo parts available in the market
Floyd Rose quality
quality materials
Cons
Price
Starting from $200
Conclusion 
If you're considering replacing a licensed or a copy Floyd Rose-type tremolo system, the original is the best option you have.
The amount of money you will invest in this tremolo bridge is worth it, considering the quality and the performance that is being sought after by a lot of rock celebrities.
Do not take my word for it, try it yourself and for sure you will not regret upgrading to this tremolo system.
Original Floyd Rose Tremolo Review