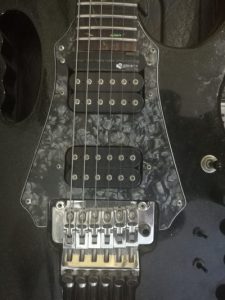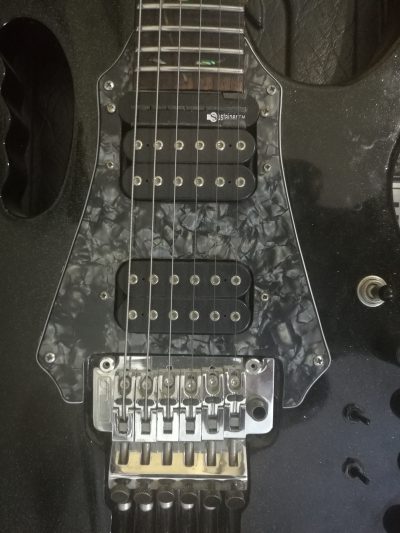 You are here because you need some information about Graph Tech Ghost Saddles.
My review will answer your questions  plus I will share with you some personal experiences I have with these saddles.
I have been modifying and repairing electric guitars for more than 17 years and I think my website is a good platform to share my experiences and knowledge of this subject.
What is Graph Tech Ghost Saddles?
Graph Tech Ghost Saddles
Summary
Name: Graph Tech Ghost Saddles
Manufacturer: Graph Tech
Price: $170
Star Rating: 4.8

Click here to check availability online.

Graph Tech Ghost Saddles has an incorporated piezo pickup on every saddle. It produces studio quality acoustic sound.
It is available for Floyd Rose type bridges, Stratocaster model bridges, and fixed bridges.
The one I will review here is the saddles for the Floyd Rose Tremolo/Bridge. It is the solution for those guitar players who needed to have a clean acoustic sound on their guitars.
It can also be upgraded using a Hexpander Pre Amp so the guitar can be used as a midi instrument.
I used to be an acoustic guitar player. My favorite acoustic artists are Simon and Garfunkel, Dan Fogelberg, and Jim Croce, and I love Kansas when they record their acoustic "Dust in the Wind."
Then I discovered it is cooler to play an electric guitar, and it is the best guitar to jam with. Even though, I still miss the sound of an acoustic guitar.
I have tried a lot of guitar effects pedals to simulate the sound but to no avail.
The looseness of the electric guitar strings cannot provide that "plucking" sound I miss on an acoustic guitar.
I have to admit I can never go back to acoustic guitar playing as its playability is very limited.
When I saw John Petrucci of Dream Theater produced an acoustic sound from his Piezo equipped Musicman guitar, I decided I should have that sound on my electric guitar.
You cannot buy a separate piezo pickup the same as the one installed on the Musicman. You have to buy the whole guitar to enjoy that acoustic sound on that electric guitar.
I searched, and found two models that got me interested, the Fishman and GraphTech Ghost. I did not like the Fishman as it is external.
So I decided to incorporate a Graph Tech Ghost Saddles into one of my guitars.
The saddles of the Graph Tech Ghost for Floyd Rose is very much similar to the Gotoh which have rounded sides which I find very comfortable to play with as they do not have the sharp corners of the Original Floyd Rose Saddles.
Does it Sound Like a Real Acoustic?
The acoustic sound you can produce from this Piezo Pickups is amazing. It really sounds like an acoustic guitar.
If you play fingerstyle, you will love these saddles. It is also much easier to play lead on acoustic songs.
Just think about the acoustic lead solo of the song "Honestly" by Harem Scarem. It is much easier done on a Piezo equipped electric guitar than on an acoustic guitar.
When the Graph Tech people say it can produce studio-quality acoustic sound, they mean it.
I have solved my problem, I have an aggressive looking heavily modified Ibanez Jem for heavy riffs and solos, then use the Ghost to mellow out.
I have it also installed in a way that I can blend both the selected magnetic pickup and the Ghost so I can have more variety of sounds I can produce.
That first verse of studio version the song "Wishful Thinking" by John Petrucci is I think a mix of the magnetic pickups and the Piezo pickups.
Ease of Installation
I will not recommend that you install these pickups/saddles by yourself. You must have a guitar technician to install it for you. So let's talk about my installation.
As I have been modifying guitars for more than 15 years and a guy having GAS (Gear Acquisition Syndrome) I took the plunge.
After a lot of wrangling which guitar I will modify, one of the Ibanezs, or one of the  Fenders, I finally settled on my number one guitar, which is a highly modified Ibanez Jem.
I was scared to death of the idea at first because it already has a Fernandez Sustainer, and I want both to share a battery.
I thought if this will not work, there is nobody there who can help me because I have never heard of anybody who has both systems on their guitar.
So installed it on my highly modified Ibanez Jem.  I only installed the Acousti-Phonic pre-amp for acoustic sound and decided against the Hexpander preamp for midi.
It is a very cool expansion, but I do not have a use for it yet. I installed it where I can blend the Graph Tech Ghost Piezo Pickups and my magnetic pickups.
Now I have a lot of new cool sounds I can create with the mix. I am covering John Petrucci's Wishful Thinking, and it bugs me before because it is very hard to get close to that sound on his studio version.
After a lot of experimentation, I concluded that it is a mixture of his magnetic pickups and the piezo pickups. Just my two cents but my sound is a lot closer to that now.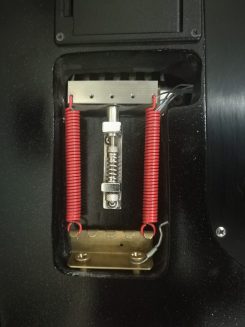 Those small white wires beside the Titanium Tone Block are the six wires that come from each of the Graph Tech  Piezo Pickups.
The Price
Graph Tech Ghost Saddles
Summary
Name: Graph Tech Ghost Saddles
Manufacturer: Graph Tech
Price: $170
Star Rating: 4.8

Click here to check availability online.

It is priced $170 but you might be able to buy it cheaper online.I consider it a very good deal as the saddles also has the Graph Tech string savers installed.
In my long experience as a guitar technician, I consider this the best Piezo System in the market.
Is it Better than the Other Piezo Pickups?
I have a friend who has a Fishman Piezo saddle installed on his guitar, and I did not like the system because it was not professional to look at (being external) and the sound is not that good.
I was lucky one of my friends let me try his Musicman Jp6 with a piezo pickup. This guitar was my dream guitar before I started guitar modifications and customization.
I compared the piezo of the Musicman and the Graph Tech Ghost and I like the sound of the Graphtech better.
How this pickup sound?
Watch Burr Johnson demo the Graph Tech  Ghost System  with the Hexpander (which I did not install)
Conclusion
The Graph Tech Ghost System is by far is the best among the three systems I have tried. When they said, "Studio Quality Acoustic Sound" they mean it.
Now I have installed these systems not only on my guitar but on my customers' guitars as well. We love it.
Feel free to ask questions, post comments or subscribe to my email list so you will be the first one to receive the updates and offers.
At a Glance
Graph Tech Ghost Saddles
Summary
Name: Graph Tech Ghost Saddles
Manufacturer: Graph Tech
Price: $170
Star Rating: 4.8

Click here to check availability online.