Welcome to JamPlay Review

Are you stuck with your playing level or are you a beginner who wants to learn how to play guitar?
My JamPlay review will guide you on the fastest and easiest way to achieve your guitar playing goals.
This website which is offering guitar lessons is the best online but do not take my word for it, you need to try it first.
Then see for yourself what I am talking about.
I use to give guitar lessons, but after some time I noticed that there are limitations on what  I can teach.
I can only teach my students what I already know but not what they really want to know.
So I decided to find a solution to this problem. I did my research and I realized online lessons offer more than what could teach my students.
I checked so many sites, and unfortunately, things did not work well as I did not find what I needed at that time.
I ended up paying for nothing but I keep on until I found out about JamPlay.com.
I pointed my students to this website, and it turns out very well for them, as they can even teach me something now as their progress is swift.
After reading my review, you will know the advantage of using this online guitar training platform.
Table of Contents
JamPlay Reviews
Summary
Name: JamPlay
Website: https://www.jamplay.com
Business Type: Online Guitar Lessons
Price: $19 a month
Star Rating: 5.0/5
Use these coupons to avail of the discount
33C6CE – 10% – off  on all guitar lessons subscriptions (monthly, quarterly, yearly)
1BA1E2 – 25% off the first month
What is JamPlay.com?
What I like most about their website is, it is smooth and straightforward, and it is easy to navigate and understand.
If you really are interested in learning anything about guitar playing, all you need to do is click the links.
You will be routed to the information you want to check out.
The thing I want is that they can teach you what you want to know, whatever genre, whatever technique and they can even teach you what artist you want to become.
You are not limited to what your lone guitar teacher knows. There are a lot of instructors in JamPlay.
I highly recommend them to those who are just starting to learn to play guitar and the same to those who have advanced knowledge.
The lessons they prepare for their online students are genuinely practical and will let each student grasp information, technique, and style they need to play guitar like a pro.
Their lessons are better structured than by just learning through a youtube video wherein you are presented with the lessons done on a  single angle camera and provided with snippets of information only.
It is also better than learning to play using an interactive tab like Guitar Pro as you will be learning alone with nobody to monitor your progress.
In JamPlay you will learn through professional videos recorded using multiple angle cameras, you will have a top of the line-interactive tab and a real guitar instructor to monitor your progress.
What is JamPlay Guitar Lessons?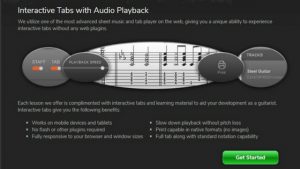 For beginners, they have courses available that will give students step by step assistance, from holding the pick, proper posture, different techniques when strumming, even proper maintenance of your guitar and a lot more.
Everything you need to make you fully equipped with information as you start playing guitar is what they can teach you.
They also have an interactive tab where you can play along like a real band.
If you have somehow had an idea about playing the guitar, what they can provide you is information to bridge the gaps between your current knowledge to all the necessities to make you a better guitarist.
If you are self-taught, for sure there are things that you skipped and missed, and that is where this online tutorial is best to consider, as progressing your current skill is a smooth process using this online guitar platform.
On the other hand, their modules are not only for beginners, but they also have modules for professional guitar players and the guitar playing  lessons will be in a  continuous learning progression
The lessons are provided on both electric and acoustic guitars and whatever genre, style, and technique is available.
You can even specify which artist you want to become, be it Slash, Joe Satriani or you can even have a celebrity guitarist as your instructor like Steve Stevens.
Summary Overview
JamPlay Reviews
Summary
Name: JamPlay
Website: https://www.jamplay.com
Business Type: Online Guitar Lessons
Price: $19 a month
Star Rating: 5.0/5
Use these coupons to avail of the discount
33C6CE – 10% – off  on all guitar lessons subscriptions (monthly, quarterly, yearly)
1BA1E2 – 25% off the first month
80 Different Instructors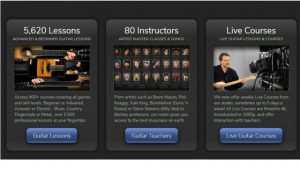 You will realize that they have a lot of instructors to choose from, and the good news is you have access to a lot of artist's original materials, thus giving you the opportunity to learn authentic styles.
You can get ideas from each of their available instructors, thus making your knowledge of guitar playing more versatile.
Each of them has their expertise, thus giving you a variety in everything you need to learn and know about playing the guitar.
Honestly, there are some names on their list that you will not be familiar with, but all of them are giving their fair share of expertise.
They share their bio, thus making it easier for you to identify which one of them can help you best with the specific lesson you want to learn.
Another factor that can make you more interested in this website is they have free lessons that you can access as a member, thus if you do not have the budget yet.
You can then take advantage of free tutorials from their staff, and it is all helpful.
You may think that they are posting freebies just for the sake of inviting more members, but after trying it out, you will feel like it is meant to give their members a jump-start in their lessons.
Celebrity Instructors
If you want to be tutored by some artists, then this is the place as they even have Steven Stevens as one of the instructors.
Remember  Top Gun Anthem, one of the most iconic electric guitar instrumental of all time, and the band Billy Idol? That's him on the lead guitar.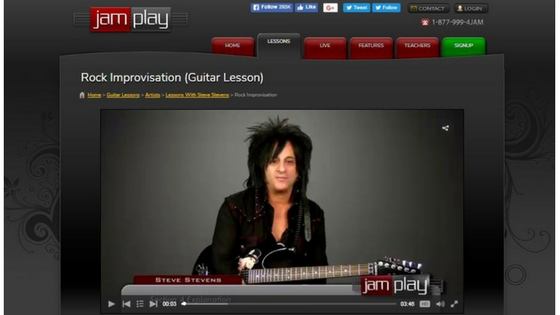 What is the Advantage of Learning Online?
Some lessons are a little challenging for beginners, but the good thing is, you can play the lessons over and over, thus giving you the opportunity to master the lessons you want to learn.
There is entirely no extra charge playing the lessons over and over again, and another thing that made this site exciting is their live lessons, they broadcast around 8 to 10 hours of streaming lessons.
These live lessons will give you extra motivation to learn new styles and techniques in playing your guitar. It is exciting as well as there are many times you will learn a song and your tutor is the artist who originally played the song.
There is also live chatting available to make teachers and members interact, thus making your learning process more enjoyable and fun.
To add, they have daily live Q and A, where you can get quick access to their staff, sending those questions and inquiries via chat and getting responses instantly is what will keep you more and more focused to learn more.
The information you can get from them is not something you can read on books or any other online guitar lessons.
The learning process is fun here, so you will end up wanting to learn a lot more, and there are a lot of things to learn here, thus making you sometimes feel overwhelmed.
It is how you look at things, and if you focus on just one program at a time, you will quickly reach your goal as a better player or as the artist you want to become.
Nevertheless, as long as your passion for learning guitar is firm, then this website can bring you to a higher level of guitar playing.
Conclusion
JamPlay is by far the best platform to learn how to play the guitar. Their interactive tabs and the variety of instructors that they have will put your playing level to where you want it to be.
It is also a lot cheaper than hiring a guitar instructor.
Click here for the free trial. 
At a Glance
JamPlay Reviews
Summary
Name: JamPlay
Website: https://www.jamplay.com
Business Type: Online Guitar Lessons
Price: $19 a month
Star Rating: 5.0/5
Use these coupons to avail of the discount
33C6CE – 10% – off  on all guitar lessons subscriptions (monthly, quarterly, yearly)
1BA1E2 – 25% off the first month