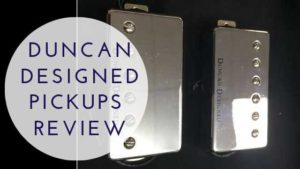 Welcome to Duncan Designed Pickups Review
You arrived at my review because you have pressing questions about these pickups.
You are wondering why there are pickups branded as Duncan Designed and not Seymour Duncan.
You want to know if those pickups are made by the famous Seymour Duncan of the USA.
My Duncan Designed Pickups review will give you all the information you will need regarding these pickups and will help in your decision whether to use these pickups or not.
The information will come from my more than 17 years of experience in modifying and repairing guitars and through this website that I built myself, I am reaching out to a lot of guitarists online.
What is a Duncan Designed Guitar Pickup?
A lot of guitar manufacturers requested Seymour Duncan if they can offer pickups with the Duncan Identity for their mid-level guitars.
These pickups are made in Korea, and most of them are modeled after a specific Seymour Duncan Pickup.
They are installed on some Fender Squiers, ESP LTD, Aria Pro II, Schecter Diamond Series, Samick's Greg Bennett series, and some mid-level basses.
Jackson Soloist with Duncan Designed Pickups
Are they as good as the Original?
I have to admit that they are a notch better than the stock no-name pickups installed on cheap guitars. Having mentioned that, I do not think that they are intended to replace the original.
I have upgraded guitars with Duncan Designed pickups with the original Seymour Duncans, and the difference is quite huge.
Well, it does not make any sense if a low-priced pickup would perform as well as an expensive and famous pickup.
Some of the Seymour Duncan Pickups they are modeled with
HB-101- Seymour Duncan '59 Model SH-1
HB-102- Seymour Duncan Jazz Model SH-4 Bridge and SH-2 Neck set
HB-103- Seymour Duncan Distortion SH-6
HB-105-Seymour Duncan Blackouts
HB-108- Seymour Duncan Invader SH-8
HR-101- Seymour Duncan Hot Rails SHR-1
SC-101- Cross between Seymour Duncan SSL-2 and SSL-6
Please note that some Duncan Designed pickups are not modeled from any particular Seymour Duncan pickup. There are also pickups for bass guitars as well as for hollow-bodied guitars.
Is the cost of these Pickups worth it?
The price is reasonable although I don't think you can buy a brand new Duncan Designed pickup.
They came pre-installed on mid-level guitars They are offered as brand new but are actually pickups removed from brand new guitars.
You can find used ones from eBay and Reverb at a low price. Is it worth upgrading from a no-name stock pickup to a Duncan Designed pickup?
If you have that pickup laying around or have one for free, then I will recommend that you go ahead with the upgrade. If you have to pay for it, then do not bother.
Keep your money and save up some more to buy the real deal. You will thank yourself for that.
Conclusion
Manufacturers will always try to satisfy customers, and will always try to fill products to any market level. You, as the customer, should always take a step ahead in your decision-making.
It is still prudent to think that you will be a better player someday and would need better gear. So there you go guys, drop me a comment, and do not hesitate to ask questions.
Den