I have installed a Fernandes Sustainer Fsk- 401 on my Ibanez Jem. This kit is the model that comes with the single coil Sustainer Driver.
The package includes:
Single Coil Sized Sustainer Driver
Sustainer Circuit Board
Optional High Output Humbucker
Easy Access Battery Box
1 Volume Pot – 1 Tone Pot – 1 Sustainer Intensity Pot
Five-way Pickup Selector Switch – 1 Stereo Jack
9 Volt Battery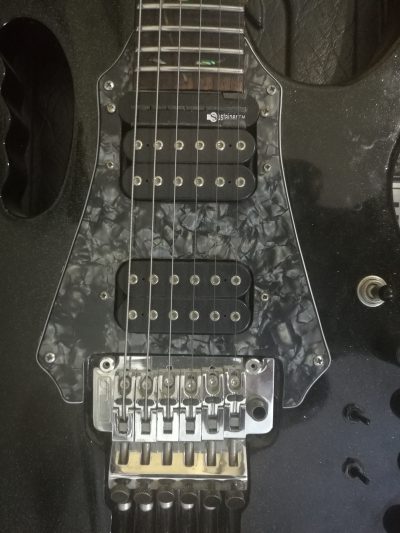 The installation process is a little tricky as it is sharing a battery with my Graph Tech Ghost Saddles preamp. I love this upgrade as it will give your solos more expression, and now I can cover songs by The Edge of U2, among the rest. This upgrade brings out a character to the guitar.
The sustain is impressive as it will continue as long as you have batteries. The sustainer circuit board comes with two micro switches. One for power and one for the modes. It has three selections, natural, harmonic and mixed mode.
The indefinite sustain 
comes from the sustainer driver vibrating the strings physically, and as long as you have battery power, it is available. You can even feel the vibrations on your fingers. These upgrades are expensive, though, but I think it is worth it.
If you like tremolo squeals, this is what you need.
I did not install the humbucker pickup that comes with the package, as the Jem got the latest DiMarzio Gravity Storm on it and it is a much desirable pickup. I did not follow Fernandes recommendation that I should have a Single coil pickup alongside the sustainer driver. I cannot part with my DiMarzio LiquiFire on the neck position. So there you go I got a humbucker in the neck position beside the Sustainer Driver.
The Conclusion
I am very satisfied with the upgrade, and I cannot part with my guitar now. It gives the guitar more life.