Welcome to Titanium Floyd Rose Tremolo Review.
My Titanium Floyd  Rose Tremolo Review. Finally, after waiting for too long, the manufacturers are listening to the cravings of the guitarists.
Titanium has been discovered as a very musical metal. Check Gittler All Titanium Guitar.
Now comes the  Floyd Rose Tremolo in all-Titanium construction.
The Floyd Rose Tremolo is by far the most stable of all the available tremolos in the market. So many copies and variations evolved around it.
Some so bad but some are very good it is even better than the original Floyd Rose Tremolo.
There are so many upgrades available to this tremolo you just have to pick what you need. Now Floyd Rose has upped the ante. They have now produced the  Floyd Rose All Titanium Tremolo.
Why Titanium?
Titanium has been known to have lesser internal dampening characteristics than steel and brass.
It means it will not absorb the vibrations of the guitar strings thus those vibrations will be transmitted better to the guitar pickups and the resulting increase in sustain is highly noticeable.
That is the reason why other companies produced an all Titanium Floyd Rose type tremolos like Hantug Guitars of Turkey.
It is also quite interesting that Floyd Rose has manufactured the All Titanium Floyd Rose FRX Tremolo as a drop in replacement to those guitars having a fixed bridge like a Gibson Les Paul.
What Makes it Superior to the Original Floyd Rose?
Floyd Rose teaming up with TiSonix developed the world's ultimate locking tremolo. This is no longer made by Schaller of Germany.
They featured components formed and machined from Titanium. The Floyd Rose all Titanium Tremolo Bridge Kit w/ R2  nut is absolutely striking in appearance.
Tested in excess of 12,000 cycles with no measurable wear at the knife edges, it is virtually indestructible. Titanium Tremolo Bridge delivers unparalleled sustain and clarity. Note separation on chords on high distortion is eminent.
As noted Titanium transfers sound energy with little to no distortion or absorption and it is only true if – and only if – the right alloys are used,  the amount of cold work (stress-induced during forming) and heat treatment are exactly done to perfection.
The world has experienced the exacting standards from Floyd Rose. That will not be lessened when it comes to Titanium.  Finally, the Titanium Floyd Rose is beyond any measure as the world's premiere dual locking tremolo.
What is amazing is it also comes with a Titanium R2 Nut which is designed for guitars with neck widths of 1-5/8″ (41.30 mm) and a 10″ radius.
Conclusion
There is nothing much to review on this superb tremolo. If you are an Original Floyd Rose Tremolo owner and tried the Titanium upgrades, this is the Holy Grail for you. If you have the money then this is for you.
The only drawback in obtaining this part is the prohibitive cost. It cost the same as a mid-level guitar. The availability of this component is also very limited.  Who will buy this expensive and rare guitar component?
The professional guitar players who are into a high level of playing and recording who requires nothing less. Will I buy this guitar part?
Yes, I will if I have a need for it. Unfortunately, I am not on a level of playing that requires such a fine guitar component. 
I have been using the Floyd Rose Original Tremolo with the Titanium Sustain Block and Titanium String Inserts and I am already blown by its amazing performance. Now it still can not be the same level as the Titanium Floyd Rose Tremolo.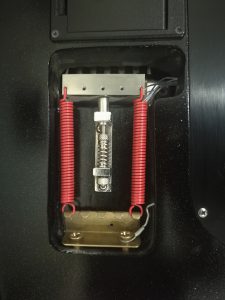 So there you go guys, it is finally available in the market.
Feel free to ask questions post comments or subscribe to my email list so you will be the first to receive updates and offers.
Titanium Floyd Rose Tremolo Review
Summary
Name     :       Titanium Floyd Rose Tremolo
Price       :        $899.99
Material :       All Titanium Construction
Pros        :       The Ultimate Tremolo
Cons       :       Very expensive