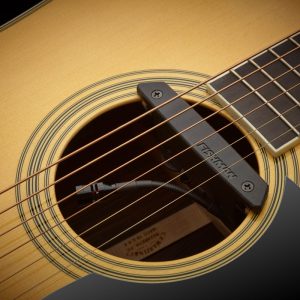 My Fishman Rare Earth Blend review. Are you into acoustic guitars? If you are, then you probably are looking for ways to amplify that acoustic sound. As there are a lot of available pickups in the market these days, one stood out as being unique.  I would like to introduce the Fishman Rare Earth Mic Blend Active Soundhole Pickup.
What is Fishman Rare Earth Mic Blend Active Soundhole Pickup?
It is a new and improved acoustic guitar soundhole pickup with a flexible cardioid microphone with an upgraded microphone bass extension/roll-off switch. The easily accessible  Mic/Pickup Blend control will offer just the right mix selection at your fingertips.
For its unmatched sound quality and ease of use, it's hard to beat the performance of the Rare Earth Mic Blend.
The Features:
Flexible cardioid microphone and mic/pickup blend control

Warm and full humbucking sound

Miniature batteries (included) offer 100 hours of life

Microphone bass extension/roll-off switch

Pre-wired output jack can also  installed permanently

Easy installation with no alteration

Active electronics and neodymium magnet structure for unparalleled string balance and clarity
Price
This pickup is a bit costly due to its quality and unmatched sound. It retails between $210 up to  $400.I would personally consider this price reasonable as the pickup is awesome.  If you can afford it, I would say give it a go.
What Users Are Saying About This Pickup
A lot of players love this pickup because of the feature that you can blend the cardioid mic and the humbucker pickup. Some consider this pickup the best sounding pickup they have ever used.
Some consider this pickup a lot better than under saddle piezo pickups. A lot mentioned that this pickup gives an acoustic guitar a good warm amplification.
Some are complaining that the mic doesn't help the mix.  Some are worried about battery life. Considering all the complaints, the overall sound when blended properly is heaven to a lot of ears.
Pros
This pickup being a full humbucker pickup will give you a cleaner sound as the pickup will not produce hum, and the true acoustic sound of the guitar is the one amplified not the noise. The mic, on the other hand, will give you the real sound of the guitar body.
Cons
Considering how great this pickup is, there is always something on the negative. This pickup is an active pickup, so you will have to change batteries. The price is a little steep between $210 up to $400.
Conclusion
I love this pickup because of the feature that you can blend the mic and the humbucker pickup. For my ears, it doesn't help if you dial 50% pickup and 50% microphone. It is best if you lower the microphone selection to like 25%.
This pickup is the best acoustic guitar soundhole pickup in the market today even if it has a steep price tag. The money spent on this pickup is worth it considering the quality and the unmatched performance it offers.
Feel free to ask questions, post comments or subscribe to my email list to be the first to get the updates and offers.