One upgrade that will make the Floyd Rose Tremolo Bridge jump to life is to change the stock saddles to Floyd Rose Titanium Saddles.
As all guitarists that like to use a whammy bar have known, there is still no replacement for a Floyd Rose Tremolo Bridge. It was introduced to the market more than 20 years ago. It has its weaknesses but still is the industry standard for tremolo bridges. After addressing the weak points, no tremolo system can come close to this bridge regarding functionality.
One of the manufacturers of Titanium Saddles is  Hantug Custom Guitars & Parts and is a part of Eksen Savunma Havacılık & Medikal San. Tic. Ltd. Şti. They locate their production facility in Ankara, Turkey.
They manufactured their Saddle, Intonating part, String locking block and the connecting pin  from Titanium Alloy Ti6Al4V
Unlike other manufacturers in the market, they only use Grade 5 Titanium alloy, which is much harder to manufacture and outstanding sonic benefits compared to Grade 2 as the company claims.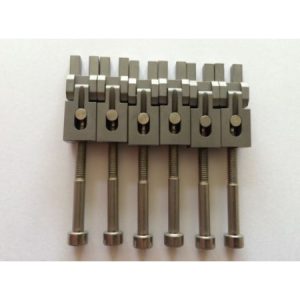 It includes the String Locking Screws, but they are not made of Titanium but Stainless Steel. This saddle is the cheapest Titanium Saddles among the competitors.
The next one is Floyd Rose Titanium Original which is made by TiSonix of USA. This saddle is no longer made by the famous Schaller of Germany.  This tremolo is priced higher than the one made by Hantug.
I  would personally pick the one made by TiSonix as we all know for more than 20 years the commitment of Floyd Rose to provide the best quality guitar tremolo bridge. Hantug still has to prove its worth. If you are on a budget,  Hantug is worth considering.
These looks almost the same, though. All  Floyd Rose Titanium Saddles includes the Titanium String Block Inserts which are rounded, unlike the Original Floyd Rose String Blocks which is square.
These upgrade will make a guitar sound to the next level as Titanium is the best material for a guitar saddle due to its lower internal dampening characteristics compared to steel and brass.
That being said, it will transfer the vibrations of the guitar strings to the other components instead of absorbing it. The increase in sustain comes from that transfer of vibrations.
 Its corrosion resistance characteristics make it more suitable, due to the fact that the guitar player is always subjecting the saddles to corrosive sweat.