Welcome to Gibson Les Paul with Floyd Rose.
Did you know that there are Gibson Les Paul with Floyd Rose models? There are models with pre-installed Floyd Rose Tremolo.
In this review, I will list the models which have a Floyd Rose pre-installed.
What is a Gibson with a Floyd Rose Tremolo?
Gibson is very much associated with fixed bridges, but some models actually have Floyd Rose Tremolo pre-installed at the Gibson factory.
As we all know, Gibson is famous for its fixed bridge, and as a lot of players needed Floyd Rose equipped guitars, Gibson finally heeded their requests and manufactured models with this great tremolo.
The Gibson Les Paul model is a classic instrument that has established itself as a favorite among famed guitarists such as Slash, Jimmy Page, and Joe Perry of Aerosmith.
It has undergone many iterations since it was first introduced in the 1950's and now fully embraces technological advancements and modernized production methods to make it one of the best guitars on the market today.
The Floyd Rose Tremolo System
The use of a Floyd Rose Tremolo sets this Gibson Les Paul apart from other instruments in the same line.
The Floyd Rose is a premier double-locking tremolo system, which is perfect for playing both classic and modern rock music.
While it is fairly easy to install and does not require much modification of the existing instrument, these guitars come with the added benefit of having the Floyd Rose tremolo built-in.
Because the Floyd Rose Tremolo System featured on this variant of the Les Paul Gibson is double-locking, it helps in keeping the guitar in tune, especially during sizable pitch changes.
The tune locking capabilities of this tremolo system can keep up with changes from dramatic playing to the use of a more subtle approach.
It also reduces the friction issues presented by the heavy use of a tremolo bar, which causes undesirable tune changes.
The Gibson Les Paul Axcess Standard Model with Floyd Rose
The Les Paul Axcess Standard has been dubbed as the "ultimate player's guitar" and was one of the first Les Paul models to receive the Floyd Rose tremolo treatment.
The state-of-the-art tremolo system is added to this model during the manufacturing process at the Gibson Custom Shop to reduce the risk of damaging the guitar when adding the Floyd Rose at a later stage.
There is also an R4 locking nut present to ensure tuning stability and return-to-pitch accuracy.
Artists such as Tommy Shaw, Rickey Medlocke, and Slash have all been known to use this Les Paul with the Floyd Rose Tremolo.
The Gibson Les Paul Custom
There are also Les Paul Custom models that have Floyd Rose tremolos built into them.
The use of such a tremolo coupled with the humbucker pickups on this type of guitar adds to its overall expressiveness and considerably reduces the amount of distortion present when playing and humming when the guitar is meant to be silent.
Many musicians will be glad to know that having built-in Floyd Rose systems on these guitars does not noticeably alter the classic look of the Les Paul, but still, gives it many sonic advantages.
The Gibson Shred Les Paul Studio
Perhaps one of the most exciting models that use a Floyd Rose double-locking tremolo system is the Shred Les Paul Studio.
Because the Floyd Rose is designed to prevent undesired tune changes during heavy playing and use of the tremolo bar, it is a perfect tool for the guitarist who likes to shred.
Aside from the use of Floyd Rose technology, another major selling point of this guitar is that it is compacted into the Les Paul Studio format that makes it perfect for even the guitarist on a tight budget.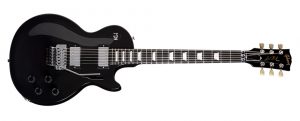 Do you Own a Les Paul with a Fixed Bridge and wanted a Tremolo?
If you own a valuable Les Paul  and you don't want it routed for a Floyd Rose, there is a solution for you. Click here to check my Floyd Rose FRX review.
Conclusion
Any models listed here as are superb instruments. Even the lower end Shred Les Paul Studio is value for money and more affordable than the rest.