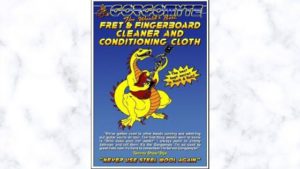 The Gorgomyte Fretboard Conditioning Cloth is an excellent polisher to clean guitar frets and fretboard. It is heaven-sent for guitar technicians and guitar players.
After more than 17 years of modifying and repairing guitars, this is the product that I consider unique. Gorgomyte rocks.
What is Gorgomyte?
A long time ago, the process of conditioning a fretboard and polishing frets was composed of multiple tasks.
Now with the arrival of the Gorgomyte Fretboard Conditioning Cloth, it all changed.
This product cleans and conditions the fretboard and polishes the frets at the same time. There is no other product like this.
As a guitar player, you will notice that after playing your guitar for a while, your fretboard becomes clogged with gunk from your fingers as well as the fret wires become dull and not smooth.
When there is gunk in your fretboard and oxidation on your fret wires, it will reduce the sustain of the guitar.
The Gorgomyte Fretboard Conditioning Cloth will solve all this. It will clean up the gunk from your fretboard and polishes the fret wires in no time at all.
This product is cheap, and a pack could clean multiple fretboards. It is so efficient in cleaning the fretboard and polishing the fret wires.
It takes only a little effort to accomplish both fretboard cleaning and fret polishing while conditioning the fretboard during the process.
I have used this polishing cloth on nickel silver frets as well as on stainless frets, and it makes the stainless frets gleam.
I am used to how easy it is to condition fretboards and polish frets now; it is hard to remember life without Gorgomyte.
How to Polish and Condition Guitar Fretboard using Gorgomyte?
It is effortless to use, loosen the strings, and put something between the fretboard and the strings to make access to the fretboard and the frets.
Cut about a three by three inches of Gorgomyte and rub it on the fretboard and the frets. It will remove any oxidation on the frets, and it has special oils to condition the fretboard.
You do not need to mask the fretboards anymore. Remove excess by using a piece of cloth and look at those frets.
They are now gleaming, and it will look better than when you first bought the guitar.
If you own a guitar or bass guitar, this product is a must for you. A lot of guitar technicians use this product as it really works. So get yours now!
Click on the image for more information.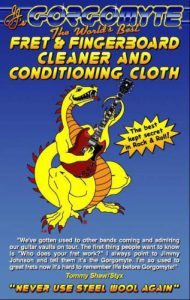 Conclusion
This product is popular among a lot of celebrities and of course their guitar technicians. No more taping the fretboard as it used to be in the old school days.
Now just one step, and you are polishing your frets while cleaning and conditioning your fretboard as well. It has never been as easy as this.
If you got questions about this product, please do not hesitate to drop a comment.
Den
Gorgomyte Fretboard Conditioning Cloth review
Summary
Name: Gorgomyte
Use: Fretboard/Fret Wire Conditioner and Polisher
Star Rating: 4.5/5
Excellent all in one fretboard and fret polisher/conditioner.