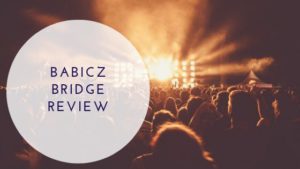 This review is one of the honest reviews I can write about the Babicz Full Contact Bridge. I have installed a couple of Babicz Bridges, and my honest opinion is that it is not perfect.
Babicz is a famous US company that  produces guitar and bass bridges. The two bridges I have encountered is manufactured in Taiwan.
What is a Babicz Bridge?
The standout feature on the Babicz Full Contact Hardware Stratocaster Tremolo is its eCAM saddle design. The average saddle on a Strat offers little contact with the bridge, besides the tiny height screws and the single intonation screw.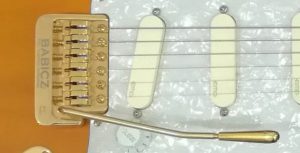 The Full Contact Hardware's saddles increase the contact between the saddles and the base plate as what they are designed for; they beef up the saddle to where it sits directly on top of the bridge, making "full contact."
More contact means more sustain, as the vibration of the guitar strings will not be lost due to minimal contact between the saddles and the base plate.
Other features include set screws on the bass side of the tremolo to clamp together the saddles for even more contact (They moved The saddle height screws to the back for easier access). The intonation screws are left unchanged.
There are a couple of bad experiences I had with the Babicz Bridge. On one guitar the strings keep breaking and always on the bridge side. I suspect it was only the adjustment on the Ecam.
I tried to adjust so many times and tried to keep the string bend angle to the minimum, but it still kept breaking strings. The owner got fed up, and we end up changing the saddles with a Graph Tech String Saver Saddles.
We also noticed the tinny sound of the bridge, so we upgraded it with a big brass block. The owner is happy now with his Babicz  Bridge without the Ecam Saddles but with a Big Brass Block, Black Box Tremolo Stabilizer, Noiseless Springs and a Brass Spring Claw.
The second case is with a Fender Standard Stratocaster upgraded with EMG pickups and a Babicz Bridge. I upgraded it with noiseless springs and Black Box Tremolo Stabilizer to stabilize the bridge as it has tuning problems.
Even with the EMG's installed the guitar sound is still tinny. I suspect it is the Babicz Bridge that contributed to the sound. This time, upgrading the bridge with a big brass block is not an option as the owner wants to upgrade to a Super-Vee Blade Runner Bridge.
So there you go guys, feel free to post comments or questions below.