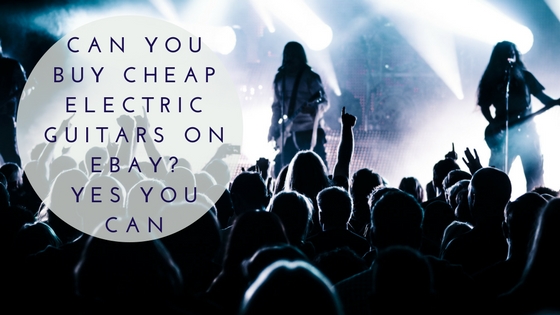 Can you buy cheap electric guitars on eBay? eBay is one of the most popular sites to buy new and used electric guitars at the best prices, and it has been for quite a long time now.
It is one of the best places to purchase electric guitars due to the sheer amount of variety present and how it is possible to get a better deal compared to most other retailers at times.
They carry some of the best brands too, and you can buy expensive high-end guitars at a lower price.
Check my eBay resources page for more information.
Narrowing Down a Large Selection
As previously mentioned, this site features one of the largest varieties of electric guitars of any online marketplace open today.
Aside from carrying many different brands, they also allow potential buyers to shop according to the different characteristics of the electric guitar. Players can shop for an instrument according to its string configuration.
This makes it massively easier for a guitar player to find what they are looking for, especially models that do not have six strings since these are hard to find in some cases.
There are options to shop for seven, eight, and 12 string guitars aside from the more classical six-string option.
Another aspect of this site that makes it easier for players to find the perfect instrument for them is showing what the top rated choices are at the time of searching.
It also shows what the best aspects of the electric guitar are such as being fun to play or having a good pickup.
There is also a portion of the website, which shows which products are trending within the week. Search results could also be separated according to the cosmetic properties of the instrument.
For example, search results could be dwindled down according to the available body colors such as the classic black and blue, or a unique color such as sunburst.
It is also possible to search through different body types including hollow, semi-hollow, and solid. Searches can also be separated according to the material.
Aside from right-handed electric guitars, an option to see left-handed ones is also available. eBay is also a place to hunt for vintage guitars.
Checking off the options presented in these different categories would help narrow down a search to the instruments that best suit a player's unique preference.
Something for Everyone
This online marketplace has something for every level of a guitar player, be it a beginner to professional.
They have more expensive products available for those looking for the best electric guitars to bring their playing to a different level, while there are also cheaper options available for those who are only starting out.
Even better news for beginning players are the deals available that cater to them. For example, as of the time of writing, this guitar has a good price for its model and it has free shipping.
Click on the picture for more information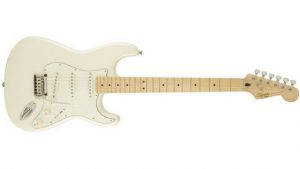 The deals available on this online marketplace are always in rotation, meaning new ones are bound to come and go every so often. Check my article about how to find best deals.
If a person gets lucky or is diligent enough in their searching efforts for an electric guitar, then they are bound to find the right instrument for them in the best deal possible.
Some of the Best Deals for High-End Guitars
Those looking for more high-end instruments are also in luck because they have sizable discounts on both Fender and Gibson products, which are arguably the two most popular electric guitar brands on the market today.
All the major electric guitar brands are on eBay. Be it a Musicman, PRS, Ibanez, and Jackson to name a few.
These electric guitars already have high-quality pieces that improve their playability. However, they are still kept at a somewhat affordable price.
Since the guitars themselves are already priced at such a low amount that the money saved there could be used to buy authentic and branded accessories that are also cheaply priced.
On most occasions, these amazing deals also come with free shipping, which saves people a considerable amount of money especially if they are already shopping on a rather tight budget.
Good Place For Replacement Parts.
There is a lot you can find on eBay regarding electric guitar parts both for repair and modification. A lot of authorized dealers are on eBay these days.
Players no longer have to replace their guitars entirely and instead can now buy the parts necessary to fix their instrument.
This could potentially save them a lot of money. This also helps if a guitar is hard to replace because of sentimental value.
People could also buy guitars at a low price for parts. Even though these guitars may not be functioning, but the parts you can retrieve from these guitars is always worth the money.
One of the Best Place to Buy Used Guitars
One can also purchase used electric guitars on this platform. This is good because this could prove to be a cheaper option.
This would also make it possible for guitar enthusiasts to purchase vintage guitars that could be a gem if you are lucky. There are also refurbished electric guitars on sale here, either by the manufacturer or by the seller.
For some of these instruments, returns are also accepted, which is a nice touch especially since it is hard to determine what exactly one is buying when it is from an online seller.
There are also highly modified guitars on sale on eBay that could be a good bang for the buck for the buyer. This site has definitely made it easier for players to purchase the perfect electric guitar for their needs.
Recommendation
Always check the price and double check before you hit the buy it now button. Getting the best deals online can be done by comparing the price of the same guitar on Amazon.
Consider free shipping, and remember to select a seller from another state to avoid paying taxes.
You should also check for seller feedback rating. Do not buy from authorized dealers with low feedback rating as they are mostly not doing their job.
Watch out for those first-time sellers with other items that looked like from an estate as it is a potential bargain.
Remember that eBay has one of the best buyer protection online and the buyer is always the king.  It is seldom that a seller will win in a dispute unless there is fraud on the buyers part.
These could be done on purpose by eBay so that the customers will have a better buying experience. PayPal is the most accepted form of payment on eBay which is also good for the buyer.
PayPal is a separate entity with eBay, so you get double protection. Feel free to post comments, ask questions or subscribe to my email list to be the first to get the updates.
You may also visit me so I can answer your questions directly at Wealthy Affiliate.com as it is where I hang out with my buddies most of the time ( link to my profile page ).