Electric guitar Modifications are essential to utilize the full potential of the guitar. Most stock hardware installed on guitars are not top level or well say, not what you want. There are times when you really want a particular guitar, but it does not come with your favorite hardware. 
Guitar manufacturers cannot make a guitar with all the specifications you want. There are parts they cannot install on their guitar because they might not have the agreement with the company that manufactures that particular part. Now if you want to have yours built by a luthier, it will cost you tons of money. 
The solution to that problem is to pick a particular guitar you want, then have it upgraded with the parts you want. There is always an upgrade available for any brand of electric guitar. It is up to you as the player/owner whatever upgrade you want. I will describe here some of the possible upgrades you may want in your guitar.
---
Floyd Rose Upgrades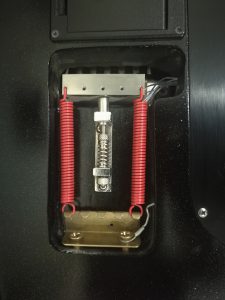 Floyd Rose bridges produce less sustain than a fixed bridge. It is because of reduced contact between the bridge and the body of the guitar. It is the reason why a  Gibson Les Paul with a fixed bridge will have more sustain compared to a guitar with a Floyd Rose Tremolo. That is the reason why Floyd Rose upgrades is a must.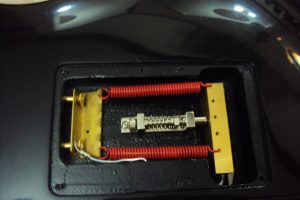 A floating tremolo is a headache when it goes out of tune.  There are a lot of products out there to keep the tremolo stabilized.  They have Tremol-no, Hipshot Tremsetter, Tremolo Stabilizer and The Black Box Tremolo Stabilizer. I consider the Black Box Tremolo Stabilizer as the Best Tremolo Stabilizer.
---
Single coil pickups have a distinctive sound which is different from a humbucker pickup. There are songs composed with single coil pickups as well as humbucker pickups. As a gigging musician who covers songs these you have to give justice to the guitar sound to both of them.
When time comes where you must have a single coil pickup on a humbucker equipped guitar, the only solution to that is by coil splitting.
---
Pick Up Upgrades
Seymour Duncan pickups vs. DiMarzio pickups.
There has been a long of debate among guitar players about which one is better than the other. If somebody asked me, I would select DiMarzio personally. I find it has more character than Seymour Duncan. Seymour Duncan is more on tone shaping.
---
Tone Capacitors Upgrade

Is it essential? If you are a guitar player who dials your tone knob (potentiometer), yes otherwise it is not useful. Upgrading tone capacitors are cheapest and one of the effective upgrade for your tone. 
---
Silencing The Beast 
Guitar hum is also an annoying issue on an electric guitar. Old guitar pickups are mostly single coils. When it was discovered that single coil pickups produce a hum even on a low gain setting, the humbucker pickups were invented. They even make some humbucker pickups in single coil size.
---
Guitar Frets Upgrade
Nickel Silver frets or normal frets is the industry standard, and they wore out easily. Stainless Steel Guitar Frets are much harder thus will not wear out for a long time even lasting longer than the guitars lifespan.
When polished they are very slick thus a lot of players are saying that "it's like playing on ice."
---
 Essential Guitar Accessories Upgrades
Some guitar accessories are cosmetic in nature. It improves the appearance of a guitar. There are guitar accessories that are essential for a guitar as it adds security to that expensive guitar you own. Guitar strap locks are a must for a guitar for safety.
The cable you are using will also make a lot of difference in your overall guitar sound. If you have an expensive guitar and boutique amp, you need a decent cable. I recommend the Mogami Platinum Guitar Cables as it is the best guitar cable that money can buy. Ask John Petrucci of Dream Theater. If you have a friend who owns it try it and you will not use another cable. It is very expensive, but it is an essential upgrade if you are serious about your sound. If the budget does not permit, the Mogami Gold Guitar Cable will do just fine, just don't compare it with the Platinum.