Fender is one of the iconic brands of guitar for a very long time. They have a lot of models, but the Stratocaster is the most famous. It is a very versatile model and a favorite for a lot of rhythm and lead guitarists. The Fender Standard Stratocaster is most sold  Fender guitar.
Click on the image for more information.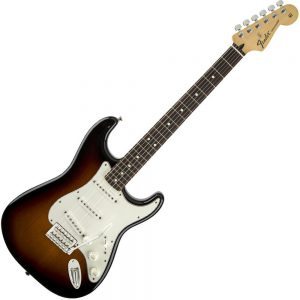 Did you know that a lot of guitars evolve from a Fender Stratocaster? A lot of guitars used by lead guitarists today are what we can consider actually as Super Stratocasters. The manufacturers modified with fast necks, humbucker pickups and different type of tremolo bridge.
They manufactured the  Fender Standard Stratocaster in Mexico, and it became so popular because its price range is much lower compared to the Fender American Standard Stratocaster. The Mexican Fender Stratocaster has the same body wood as the American Standard, which is Alder. The neck is the same construction although the American Model has 22 frets while the Mexican has 21 frets as standard. They have the same neck wood also.
You cannot compare the hardware between the two because the American Model has a very decent hardware. The Mexican Model has good hardware though and very much capable as the main guitar from beginner level to Mid-Level Professional Players.
What is good about the Mexican model is when it is upgraded with top of the line hardware like pickups and electronics. It can surpass an American Model with stock hardware in sound, and still, you don't pay the price of an American Model. The American Model, when upgraded, of course, is on the higher level than the Mexican Fender, but the cost is way much more.
There are so many available upgrades for the Mexican Fender, from pickups to bridges to tuning machines than other guitar models. A Mexican Fender fitted with a choice Seymour Duncan, EMG or DiMarzio pickup will easily beat in sound an American Model with stock pickups.
I have seen a lot of professional players using a highly modified Mexican model as their instrument of choice.
These are some of the available drop-in tremolo bridge upgrades,
The pickup options are so many to list here, but these are some of the favorites
Seymour Duncan Single Coil Pickups

Seymour Duncan Single Coil Sized Humbuckers ( Hot Rails, Vintage Rails, Cool Rails)

DiMarzio Single Coil Pickups

DiMarzio Single Coil Sized Pickups ( Air Norton S, Cruizer, Chopper)

EMG Active  Single Sized Pickups
A Mexican Neck upgraded to Stainless Steel Frets will feel like you are "playing on ice." Stainless Steel  Frets are so slick and hard wearing it will last the guitar lifespan. It also looks very cool when polished. When you bend a lot of notes, you should consider Stainless Steel Frets.
If you want to increase sustain, there are available tone block upgrades. It is your choice if it is Titanium, Brass, Tungsten or Copper you want. The Titanium Tone Block is the Most expensive but will increase the sustain dramatically. Remember, the stock tone block of Fender Standard Stratocaster is lead.
I own two Mexican Stratocasters, heavily upgraded. One has the Seymour Duncan P-Rails pickups while the other one is fitted with the Seymour Duncan Hot Rails, Vintage Rails, and Cool Rails Set.  I will never sell or trade those guitars with other guitars. They are really a piece of art, and they are part of my collection.