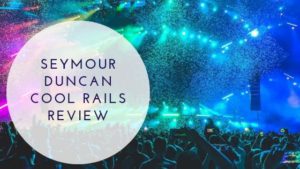 So you want to know how good is the Seymour Duncan Cool Rails? This post is my honest Seymour Duncan Cool Rails Review.
I will try my best to give you the answers to your lingering questions about this pickup.
I have been modifying guitars for more than 17 years and the guitar above which I modified is a Fender Stratocaster made in Mexico.
I am a very experimental guy. The Cool Rails is part of the series of rail pickups by Seymour Duncan that they designed for the Fender Stratocaster or any Stratocaster type of guitar.
The three are Hot Rails for the Bridge position, Vintage Rails for the middle and Cool Rails for the neck position.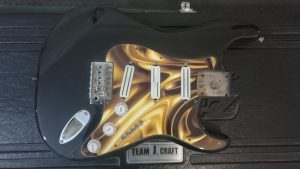 This is one of my project guitars with Hot Rails in the bridge position, Vintage Rails in the middle position and Cool Rails in the neck position.
It is a Fender Mexican Stratocaster Body. Pickup switching and wiring configuration is done through five microswithes.
As you can see there is no 5 way switch. I use five microswitches so I will have all the wiring options of these pickups. Series (full humbucker, parallel humbucker, single coil north coil, single coil south coil as well as out of phase between pickups).
The Seymour Duncan Cool Rails Pickup is designed to replace a single coil pickup in the neck position. It is a humbucker pickup, meaning dual coils, but the size is small to fit the Stratocaster pickup mounting.
The main objective is to eliminate the guitar hum, being a humbucker pickup. They designed it as a small humbucker to make it a drop-in replacement for the stock pickups.

This pickup is good, and it really does the job of eliminating the hum while retaining the Strat look. It is a very nice sounding pickup, and I have installed it on one of my Mexican Fender Stratocaster (see above).
They also sound like a real single coil pickup minus the hum.  It was one of my earlier projects, and  I was happy with it until I was into coil splitting.
Check the demo here for the rail pickups ( Hot Rails, Vintage Rails and Cool Rails.
Is This Pickup Good for Coil Splitting?
See, on the demo the pickups sound good by its original configuration. Well is this pickup good for coil splitting? I would like to offer information based on my experience that this pickup is not good for coil splitting.
It sounded good in full humbucker mode as it was designed to function that way. If you wire the coils in parallel, you will not get the same sound as a full humbucker wired in parallel. 
When you split the coils, you will get a very tiny sound which in my ears is not acceptable. If you need to split a pickup, you should use a full sized humbucker or the Seymour Duncan P-Rails.
As you can see, one part of the P-Rails pickup is also a rail but I would like to stress the point here, that this rail coil is designed for coil splitting.
This will do the job, but not the split coiled Cool Rails Pickup.
Does This Pickup Sound Like A Single Coil Pickup?
If you need a drop-in replacement for a single coil pickup without the hum, this is the pickup you need. It sounds very much like a single coil without the hum because it is a humbucker.
Conclusion
The Seymour Duncan Cool Rails Pickup is a direct replacement for a single coil pickup minus the hum. It is a single coil sized humbucker.
Although it comes in four wires, I do not recommend this for coil splitting as it will sound tiny. You have to wire it as a full humbucker meaning coils wired in series as it was designed to be used as such.
This is the default wiring. I have also experimented wiring it in parallel mode but I did not get good results. To sum it up, this pickup should be used as per its intended use. Rewiring or coil splitting will not give good results.
Feel free to ask questions, post comments or subscribe to my email list to be the first to get the updates and offers.
Seymour Duncan Cool Rails Review
Summary
Name: Seymour Duncan Cool Rails
Website: seymourduncan.com
Price: $85
Rating:5
Pros: Drop-in replacement for single-coil pickups while eliminating hums.
Cons: Not good for coil splitting
Seymour Duncan SCR-1b Cool Rails Strat Bridge Pickup, Black