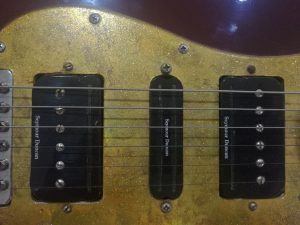 My honest Seymour Duncan P-Rails Review. A gigging musician needs a guitar that could sound like as many guitars as possible. You need a humbucker tone, a P-90 tone ( those big fat single coils used by Gibson) and a Strat tone. How can this be achievable?  Enter Seymour Duncan P-Rails. 
In the past, three guitars are needed to have all of this tone. Now Seymour Duncan made life easier for the gigging guitarist and made it possible to have all of this tone on one guitar.
As pickup coil splitting is essential to produce a variety of tone from a single guitar,  this pickup is heaven sent to a gigging guitarist. A P-Rails has two coils just like a regular humbucker. What is different about these pickups is that it has a P-90 single coil and a Rail single coil.
A P-90 single coil pickup is a fat single coil pickup are used by vintage Gibson, and it has distinctive fat sound. Even though a P-90 has a fat sounding single coil and being loved by many guitarists, it gave way to the humbucker pickup because of the hum issue. Gibson decided to change their pickups later into a humbucker to eliminate the hum. There are so many players who still like the sound of that pickup if they could just cancel the hum.
The Rail pickups are humbucker pickups with a single coil size. This is to replace the single coil pickups on a strat while preserving the look. As this is a humbucker, it has two coils. Now one coil or a rail is paired with the P-90, making it the P-Rails pickup.
The P-Rails pickup is a drop in replacement for a guitar with a regular humbucker slot.
Using any three-way on-off-on mini switches, you can have three sounds on one pickup.  You will have a big fat sounding humbucker if both coils are used, a fat sounding P-90 single-coil or a single coil rail for a strat tone.
The neck pickup is Reverse Wound Reverse Polarity to avoid hum when using the single coil selection. That means if you are using the bridge P-90 and the neck P-90 together you will not get the hum. This also applies when using both rails together.
This pickup is hand built in Santa Barbara, CA, each P-Rails humbucker utilizes a pair of alnico five bar magnets, it comes with a 4-conductor lead wire for all of the wiring options, and they are vacuum wax potted for squeal-free operation.
Conclusion
Can you replace your favorite boutique pickups with these pickups?  My honest answer is no. I will not swap my favorite DiMarzio Crunchlab, and DiMarzio LiqueFire set with these pickups. There are points to consider, though  I can produce a Strat tone with my DiMarzios by coil splitting, I cannot get that P-90 sound.
I have a Standard Stratocaster fitted with a P-Rails set, and it really helps the Strat to produce a Vintage Gibson tone while keeping the Stratocaster's character tone plus a fat humbucker tone. Now that guitar is perfect for a gigging musician who has to cover a lot of guitar tones.
Please feel free to ask questions or post comments or subscribe to my email list to be the first one to get updates and offers.