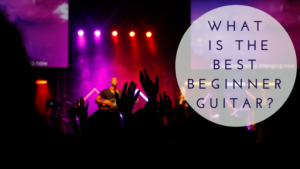 A lot of people learned to play the guitar from an acoustic guitar. It is the norm.
If somebody would ask me today, what is the best beginner guitar? A lot of you are expecting  I will say an acoustic guitar.
I would say that the best beginner guitar is an electric guitar. Why?
It is easier to play, the neck is slim and has a lower string tension than an acoustic guitar.
String tension is the first issue that makes a student give up especially if they start very early. It is very painful to the fingers and more so for younger students.
This pain is the main reason students give up. It actually takes dedication to overcome this pain. I myself started on an acoustic guitar, and my favorite songs are folk songs that are played fingerstyle.
It was hard for me to continue studying because of the pain but I persevere because as they say no pain, no gain.
Click the image for more information.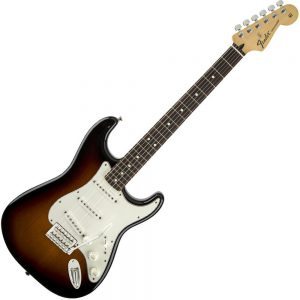 When I first use an electric guitar, I was so amazed because the string tension is so soft compared to an acoustic guitar. The neck is slim and very much easier to play than an acoustic guitar.
I remembered when I was still learning to play, I used to avoid a song that has a bar chord. It was very hard for me as a kid to play that bar chord on a fat acoustic guitar neck.
With the electric guitar, it was much much easier because of the slim neck. After that, I never went back to the acoustic guitar.
I even fitted one of my personal electric guitars with a Graphtech  Ghost  Piezo pickup saddles, so I can have a studio-quality acoustic sound while having the amazing playability of an electric guitar neck.
Now I can still play folk songs on my electric guitar. So what is the best guitar for a beginner? I would say hands down a Fender Stratocaster Standard Series made in Mexico.
Why not start with a Fender Squier  Stratocaster made in Indonesia or China which is cheaper?
A Fender Standard Stratocaster made in Mexico is constructed of the same wood as the more expensive  American Standard model. Only the hardware like pickups, tuning machines, and the bridge is different.
Let us say the student gives up and doesn't want to study anymore. This guitar is not hard to sell because it has value compared to a Fender Squier model. So resale value is one of the considerations for a Mexican model.
If the student is passionate about guitar playing, then this model guitar comes off real value. This guitar is an industry-standard guitar and a lot of upgrades, and parts are designed around this guitar model.
As the student progresses, he will need a better guitar especially if he becomes professional. He already has in his possession a guitar which could be turned into a professional guitar by just upgrading the parts.
Again, there are tons of available upgrades for this model guitar, and a lot of players are using this guitar professionally, upgraded of course.
If you are on a tight budget, then you can settle for the Squier Stratocaster Affinity Series Starter Pack by Fender. The same company who made the Fender Standard Stratocaster.
Included is a Fender FM 10G Amplifier, Strap, Clip-on Tuner, Picks, Gigbag and Cable. Out of the box, this set is complete to start playing. The retail price is $349, but you can get in on Amazon for $199.
The Affinity is a Mid-Level of the Squier Series. The cheapest is the Bullet then the Standard is the most expensive among the series. This guitar could be made in Fender's  Indonesia or China factory.
The most noticeable difference between the Squier Affinity Stratocaster by Fender and the  Fender Standard Stratocaster is the body.
The body of the Squier Affinity Stratocaster is thinner and made of Agathis while the Fender Standard Stratocaster is made of Alder. Alder is commonly used among electric guitars, even the more expensive Fender American Standard Stratocaster.
Conclusion
I highly regard the Fender Standard Stratocaster overall as the best beginner guitar. If you can afford it, I suggest you go for it.
On the other hand, the Squier Affinity Stratocaster Starter Pack is a very much viable solution for budget-conscious individuals.
It is playable as a beginner but then you can not expect good results when you try to upgrade this guitar. As I have been doing guitar modifications for more than fifteen years, I found the  Fender Standard Stratocaster guitar is the best for upgrades.
Being the most copied electric guitar in the world, a lot of companies are manufacturing upgrade parts for this guitar. Tons of upgrades are available. So now you have two choices as your first electric guitar.
Cheers,
Den