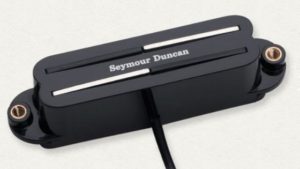 Welcome to Seymour Duncan Vintage Rails.
You came to my review because you want to know if this popular pickup is that good.
My Seymour Duncan Vintage Rails Review will give you the information you will need about this pickup.
I have been modifying guitars for more than 17 years and guitar is my passion.
My experience on the subject will give you insights that will help you in your buying decision.
Seymour Duncan Vintage Rails Review
Table of Contents:
What is Seymour Duncan Vintage Rails Pickup?
The Vintage Rail pickup is part of the Hot Rails, Vintage Rails and Cool Rails set.
The Vintage Rail pickup is designed to replace the single-coil pickups of the Fender Stratocaster and any Stratocaster type guitar with a single-coil pickup slot.
It comes in white or black. This pick up is designed to be installed in the middle position.
Is This a Drop-in Replacement for Single Coil Pickups?
This is a drop-in replacement for guitars with single coil pickup slots.
This is designed to replace the middle pickup of the Fender Stratocaster or any Stratocaster type guitar.
There is no modification required for the pickguards as it will fit perfectly into the slot.
There you go, the sound and the looks of the Stratocaster is preserved but minus the hum.
Does it Cancel Guitar Hum?
Single coil pickups will hum and it is the reason why rockers tend to sway away from single-coil pickups.
Yngwie Malmsteen is just an exception.
This pickup will fit in a single-coil slot but this is a humbucker so it will cancel the hum.
Seymour Duncan Vintage Rail Pickup Price
This pickup is part of the Hot Rails, Vintage Rails, and Cool Rails set but it can be purchased individually.
It will cost $85 plus shipping and installation fees for this upgrade.
Pickups are very easy to install, you do not need a guitar technician.
Just simple soldering skills are required to do it and some money can be saved. It is fun to work on guitars too.

Is this good for coil splitting?
I do not recommend coil-splitting this single coil sized humbucker because it will produce a tiny sounding pickup.
It is not satisfactory to my ears.
The rail pickup I recommend for coil splitting is the Seymour Duncan P-Rails pickup.
What is the difference between the rails of the Vintage Rails and the Rails of the P-Rails?
The rail side of the  P-Rails pickup is designed for coil splitting.
The vintage rails pickup is designed to be used as provided which is wired in parallel, for that sparkly sound.
The Seymour Duncan Vintage Rails pickup comes with four wires for the option to wire it in series for a more hotter pickup.
In my opinion this pickup  is not suitable for coil splitting.
It can be done but the result is not that good.
How Does it  Sound?
This is a very good sounding pickup. It really sounds like a single-coil.
The advantage is that it will not hum as it is a humbucker.
So if you want to be more aggressive and want to dial some gain in your amps, this pickup will not hum plus you still have the characteristic single coil sound and looks.
Conclusion
If you need a pickup to replace your single-coil pickups and you want to preserve the single-coil sound of your guitar without the hum, this is the pickup you need.
I recommend that this pickup is installed as per the configuration it is designed.
Do not bother to split the coils as the results would be far from satisfactory.
Feel free to ask questions, post comments or subscribe to my email list so you will be the first to get the updates and offers.
Den
At a Glance
Seymour Duncan Vintage Rails Review