Welcome to Titanium Guitar Frets
Are you wondering if Titanium Guitar Frets would be the best guitar fret?

My review will answer your questions.  I have been modifying and repairing guitars for more than 17 years and I think I can give you more insights about this topic.
Why Titanium Guitar Frets?
The reason being is that titanium is a very musical material. It has a lower internal damping characteristic than brass or steel. That means string vibrations are not absorbed but transmitted to other parts of the guitar creating a better tonal character.
Sintom's Titanium Fret Wire Review
Summary
Name: Sintom's Titanium Fret Wire
Country of Manufacture: Belarus
Price: $ 46.99
Pros: Affordable
Cons: Suitable only for instruments with nylon strings
Star Rating: 3.5/5
I have been upgrading guitar tremolos with brass tone blocks and titanium tone blocks for more than 17 years. The brass tone blocks will very much improve the tone of the guitar, but the titanium guitar tone block is a different beast.
It produces more sustain, and the note separation is more pronounced even on a high gain setting.This characteristic, I think, would also affect the guitar sound when fitted with titanium guitar frets. It is the reason that they are manufacturing the Gittler Guitar out of aircraft grade titanium.
Available in the Market

One company is producing the Titanium Guitar Frets. The manufacturer which is from Belarus is claiming that it is slightly harder than stainless steel while a third lighter.
Well, this last characteristic is suitable for airplanes, and I think it has no bearing on guitars. The manufacturer claimed that their Titanium Fret Wire is only suitable for a guitar with nylon strings.
It will cause a squeak when bending steel wound and nickel wound strings. How come?
The Gittler all Titanium Guitar is made out of all titanium, and I have heard the demos, and it did not squeak during bends.
We should also consider that the "frets" on the Gittler are small tubes, thereby producing a greater radius than a standard fret wire.
This greater radius would cause more metal to metal contact. It should squeak more if titanium has that characteristic.
Could it mean that the titanium used in this fret wire is not the same grade as the one in the Gittler?
One thing also is that the price is not that high. Are we talking quality issues here? It is noteworthy that the manufacturer did not mention what grade of titanium they are using.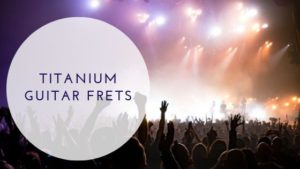 Pros
Cons
Good only for string instruments with nylon strings.
Conclusion
Will I dive in and change all my stainless frets? I will not as of this update, but I will be interested if another manufacturer will produce these fret wires.
So it is up to you if you want to change your classical guitar frets or if you will experiment with your electric guitars.
Drop me a comment below or feel free to ask questions.
Sintom's Titanium Fret Wire Review
Summary
Name: Sintom's Titanium Fret Wire
Country of Manufacture: Belarus
Price: $ 46.99
Pros: Affordable
Cons: Suitable only for instruments with nylon strings
Star Rating: 3.5/5