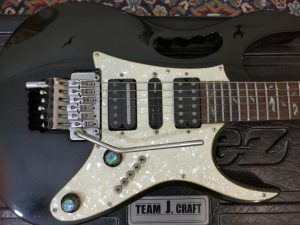 My DiMarzio Air Norton S review. I had a long brainstorming on what I will install in the middle position of my highly modified Ibanez Jem.  I like the DiMarzio Air Norton so much, but I cannot replace my DiMarzio LiquiFire in the neck position as it is my favorite. So I searched, and I found this small sized version of the Air Norton. The Air Norton S is warm sounding, has the same unique tonal characteristics as the original and very well balanced.
DiMarzio Air Norton S Single Coil  Sized Pickup – Black

So I decide to install this pickup in the middle position, and I am very happy with it. It compliments the DiMarzio CrunchLab and LiquiFire Set pickups on the bridge and neck position.
Is it Good for Coil Splitting?
If you noticed,  I have those mini switches installed instead of the five-way pickup selector. I use this to have all the pickup combinations on the three pickups. I also have the option to use all pickups in single coil, parallel mode humbucker, and full humbucker mode.  The Air Norton S is not the best pickup to split coil. It comes in four wires to achieve this purpose, but I do not find it satisfactory.
It sounds tiny like the Seymour Duncan Rail Pickups when split coiled.  So I do not recommend these pickups for coil splitting. If you need a rail pickup for coil splitting, I recommend the Dimarzio P-Rails. It is designed for that purpose.
Why would you install pickups like these instead of a single coil on a single coil slot?
We all know that single coil pickups produce hum that is why major companies like Dimarzio manufactured small sized humbuckers to fit into a single coil slot. If you do not need a single coil pickup, this is a pickup to put in its place and have a small sized humbucker.
Will it sound like a single coil pickup?
No. This pickup is designed to give you the unique tonal characteristics of the original Air Norton in a single coil size. If you need a small sized rail humbucker that sounds like a single coil, I recommend you use the Seymour Duncan Hot Rails for the bridge position, Seymour Duncan Vintage Rails for the middle position, or Seymour Duncan Cool Rails in the neck position.
Conclusion
This pickup is not a replacement for a single coil pickup for its sound. It is designed to be used as a small-sized humbucker to fit in a single coil slot. This is also not suitable for coil splitting although it is provided with four wires. If you have this pickup pre-installed and you need a single coil sound, the best you can do is wire both coils in parallel, then you will have a sound closer to a single coil sound, but not as good as the Seymour Duncan Hot Rails, Vintage Rails and Cool Rails pickups.
Feel free to ask questions, post comments or subscribe to my email list to be the first to get the updates and offers.