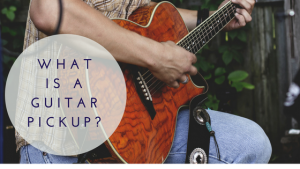 What is a guitar pickup? A guitar pickup is the component of a guitar that transforms the vibrations of the guitar strings into a signal that will produce the sound of the guitar.
What are the types of Guitar Pickups?
Guitar pickup types are plenty that a player could choose nowadays. They can either choose a single coil, a humbucker, passive, active or the piezo pickups.
Magnetic Pickups are Classified Into These Types:
A Single Coil Pickup has one coil as the name implies and it is the old type of guitar pickups. Old Fenders have single coil pickups and the Older Gibsons as well with the fat  P-90 single coil pickups.
When it was discovered that the single coil pickups would produce hum, manufacturers started making humbucker pickups. A humbucker pickup is a double coil pickup that is wired in series to eliminate guitar hum. This is the industry standard of today's pickups although there are still players that we can call as purists who still uses single coil pickups, i.e., Yngwie Malmsteen.
Mini humbuckers are pickups that are humbuckers, but they are sized like the single coils. They are designed either to sound like a single coil pickup but without the hum, like the Hotrails, Vintage Rails and Cool Rails made by Seymour Duncan. Some manufacturers designed mini humbucker pickups to sound like the original big humbucker but in a smaller size to fit a single coil pickup slot, like the Dimarzio Air Norton S Pickups.
Passive pickups are pickups that do not require their own power supply. These pickups are the most commonly installed on electric guitars.
Active pickups require a battery to operate, but these pickups provide more power to the sound of the guitar.
Piezo Pickups
Piezo pickups are those pickups mounted on the individual saddles or on the bridge to produce an acoustic sound. These pickups can transform an aggressive heavy metal guitar into an acoustic sounding electric guitar when equipped with Piezo Pickups.  These pickups could also be utilized as a midi component so the guitar can be used as a midi instrument.
Acoustic Guitar Pickups
There is a choice of acoustic guitar pickups, these days. There is magnetic and piezo, and you can even buy a combination of magnetic and piezo pickups like the Fishman Rare Earth Pickups.
What Are the Most Popular Brands?
Seymour Duncan, DiMarzio, and EMG are the most popular models. EMG are famous for their active pickups, while Seymour Duncan and Dimarzio are battling for the top position on the passive pickup arena.
Graph Tech is famous for their Ghost Piezo pickups for electric guitars while Fishman has both for electric guitars and acoustic guitars. Fishman is famous for acoustic guitar pickups while Seymour Duncan has a good line of acoustic pickups as well.
Conclusion
Guitar players of today are very lucky to have all the choices of pickups they can install on their guitars. In the old days, only single coil pickups are available.
Feel free to ask questions, post comments or subscribe to my email list, so you will be the first to receive the updates and offers.